No Smoking
Series
Episode

Pilot

Written by
Directed by
Airdate

November 12, 1995

Episode Chronology
Next segment

[Source]
No Smoking
is the pilot episode of the
Cartoon Network
original series,
Cow and Chicken
. The episode originally premiered on
What a Cartoon!
on November 12, 1995.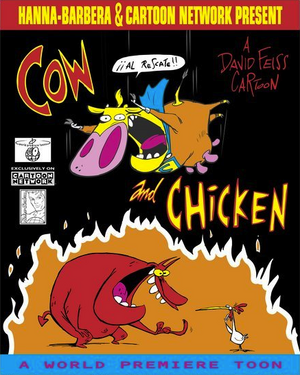 A surreal pair of siblings, Cow and Chicken, are separated when the Devil targets Chicken in a cigarette-smoking scam. Emboldened, Cow transforms herself into "Super Cow," a Spanish-speaking superhero, who saves Chicken from the depths of hell.
Characters
Edit
Main Roles
Edit
Minor Roles
Edit
"No Smoking" was aired two years before the first episode of the first season.
"No Smoking" was banned after its original airing by Cartoon Network because of its depiction of hell, the devil, and an underaged character smoking.
In the episode, The Red Guy is named The Devil